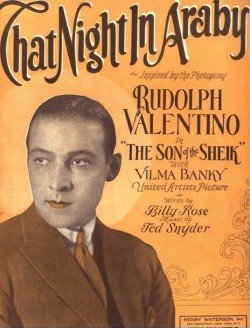 Lyrics
Far, far away
We met one day,
Under a sky of jade,
Camels on dress parade.
Pale moon above,
One night of love,
Oh! what that one night meant,
Child of the Orient,
Why did I ever leave your tent?
CHORUS:
I am dreaming of that night of love with you in Araby,
I thrilled with wild delight, A thousand times that night.
'Neath flaming skies, Your harem eyes, just made a slave of me,
I'd give up all, Could I recall, that night in Araby!