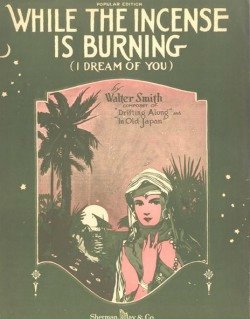 Lyrics
Far across the sea in Araby,
There's a romance of true love,
With the sweetest maid in Araby,
And her guiding star above,
Each day and night dreams carry me
Back to the one I adore,
In that land of mystery,
I long to be there once more.
CHORUS:
Dreams while the incense is burning,
Dreams of a love that's yearning,
Seems I hear her calling,
Gleams of the twilight falling,
Sighs fill my soul with sadness,
Eyes change my heart to gladness,
I must be returning,
While the incense is burning,
I dream of you.
When the big pale moon is shining
Far out in the eastern skies,
Then is when my heart is pining,
Oriental paradise,
Each dream brings back a memory,
Days of the sweet long ago,
Love grows stronger in my heart,
And her love is mine I know.