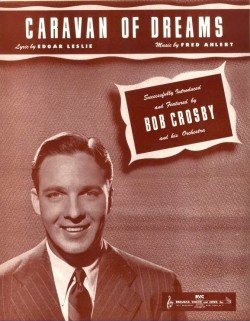 Lyrics
A nomad am I
I fold my tent
When the day is spent.
And shadows softly fall
On dreams I rely!
I fling my sack
An a camel's back
Where Allah smiles on all,
As through the night I'm calling.
CHORUS:
Caravan of Dreams get rolling
Over desert sands and far away!
Endless are my schemes, get rolling,
Help me find a new and better day!
I must have been blind
In leaving behind
All I have to live and pray for,
Caravan of Dreams get rolling,
Lead me to my love of yesterday!
Caravan of Dreams, be on your way!