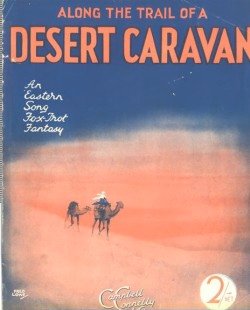 Lyrics
Desert moon and the stars are calling,
Calling to me and they're calling to you.
There's romance with dark shadows falling,
My heart is yearning, Just to be returning.
CHORUS:
Along the trail Of a Desert Caravan,
I will follow you,
Ev'ry morn, with the dawn we'll break away
Never know where we go or where we stay,
In new found lands With my desert caravan
Drifting sands showing us the way,
And then when each journey is through,
I'll rest, blessed with kisses from you,
Along the trail of a desert Caravan.
Night of love in a land of splendour,
Thrilling and filling each heart with delight,
Moon above sheds a light as tender,
Soon I shall meet you,
Lovingly I'll greet you.