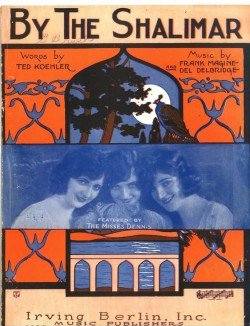 Lyrics
Twilight is closing the flowers my love,
Soon silver stars will be twinkling above,
Some mystic Power is lurking it seems,
This is a night of enchantment and dreams,
Love time is bidding the long day adieu,
Come dearest one I am waiting for you.
CHORUS:
By the Shalimar
In my arms I'll hold you,
With a burning love undying,
For you I'm sighing
While the world's at rest,
We will dream together
By the Shalimar.
Soft scented breezes are telling the palms
Night soon will hold all the world in her arms,
Waters aglow seem to murmur your name,
Thrilling and setting my heart more aflame,
Love birds are calling to hearts that are true,
Hasten my own I am waiting for you.