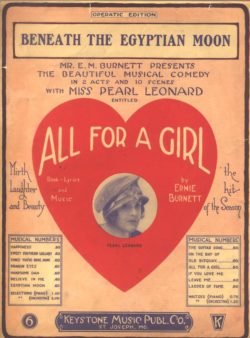 Lyrics
Where the river Nile is flowing, Soon I will be going,
Underneath the tropical skies,
Where all the year, it's spring my dear,
It's a long lost paradise,
And down by the shore,
We'll build a sachamore,
Where we can drive all our cares away,
There we'll love and bill and coo,
Like two nestling cockatoo,
At the end of a perfect day.
CHORUS
When stars are shining above us,
'Neath Egyptian skies,
Down in the land of real lovers,
Free from cares and sighs,
Please let me live there forever,
Where no one our love could sever,
And let us spoon,
Beneath the Egyptian moon.
Ev'ry evening, we'll be spooning,
While we're honeymooning,
In the silv'ry light of the moon,
While crocodiles, bestow their smiles,
To a real Egyptian tune,
And we'll make the Sphynx,
Whom people call the Jinx,
Tell us about the ancient way to love,
I can picture Pharaon,
Whom the women hated so,
Calling Rameses "Turtle Dove"