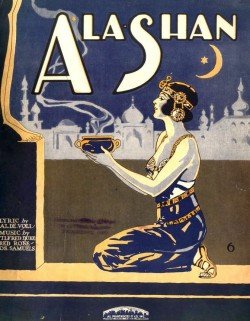 Lyrics
Purple shades are creeping Down the Alashan,
'Cross the valley sleeping Cools the desert sand,
Heart of mine is weeping, Shrine of Buddha Land
Guard within your keeping Rose of Alashan.
CHORUS:
Alashan, Alashan,
From my caravan I can see
Alashan, Alashan,
In your magic splendor keep your love so tender,
Fairest Rose of Alashan.
Sacred snows are falling On the Alashan,
Seems I've heard you calling Since the world began,
Temple bells are tolling, Visions now I see,
In the clouds a-rolling, Fairest flow'r to me.