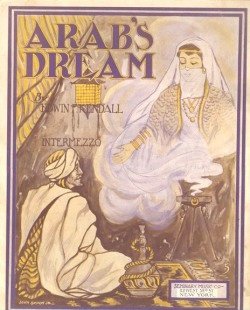 Lyrics
While the moon was beaming, Arab lay a dreaming,
On the sands afar,
Since he had met her, Couldn't forget her,
She was his guiding star.
Timid little creature, Used to be his teacher,
Missionary maid,
But she left him they say, Now he's pining away,
He's dreaming of her night and day.
CHORUS:
Dreaming, underneath the skies the Arabian dreams,
Her face forever haunting him it seems,
Dreaming, while the moon is beaming from above,
The Arab's dreaming of his love;
"Some day you're a-going to be my Noman queen,
For in my heart you'll always reign supreme,
My horse, dear, is yours of course, dear,
You'll ride behind me,"
That's the Arab's dream.
Timid little creature, Tired of being teacher,
'Mid the burning sands,
Longed for another, Left with her mother,
Back to her native land.
Arab's heart was broken, Seldom has he spoken,
Since that fatal day,
'Neath the tropical moon, To a Bedouin tune,
He is dreaming where the palms trees sway.