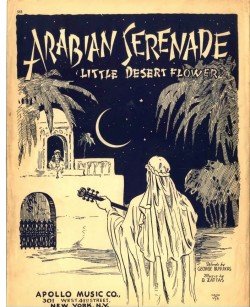 Lyrics
Soft the moonlight falling,
And the Sheik is calling
To his pretty sweetheart on the desert's end.
As in solemn prayer, He repeats as ever:
"I sincerely love you, I do not pretend."
Chorus:
"Little desert flower!
'Am [sic] the Sheik of power!
Will you be the Queen of all that I possess? (1)
You shall have the freedom
Of my dreamy kingdom!
Bring to me forever love and happiness!"
Love is so disarming,
And the Sheik is charming,
He can't use his power on this pretty maid--
He the great and mighty,
Became full of piety, (2)
And he hopes to win her with his serenade.