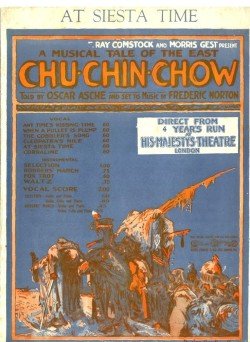 Lyrics
Heat of the noonday!
Hush of the June day!
Fragrant with perfume of Roses;
Calm and contented,
And sandal wood scented,
All nature a moment reposes.
Stillness of night in the heart of the day,
Save for the sound of the fountains at play, Ah!
CHORUS:
At Siesta time on the housetop,
In the langourous haze of the day
That is the time when I ponder,
When I wonder the hours away;
It is life in essence of music,
Set to a sensuous rhyme
Wonderful skies of cloudless blue
Wonderful eyes I gaze into
And wonderful dreams I dream with you
At Siesta time.