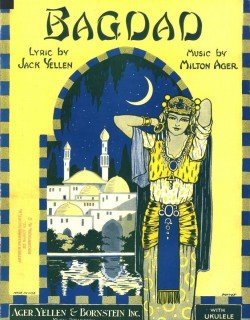 Lyrics
Bagdad! There it was I met her,
Never to forget her it seems,
Her lips, her eyes!
Bagdad! Was it all in seeming?
Was I only dreaming sweet dreams of Paradise?
But only this I know, There in the moonlight glow
CHORUS:
I lost my heart in Bagdad;
And there I pray to be,
Beneath the skies of Bagdad,
Where someone is waiting patiently for me,
I love to dream of Bagdad
When longing makes me sad;
For my Princess and happiness
Wait for me in old Bagdad,
Bagdad! Such a night as this is
Brought me burning kisses of love,
Beneath your moon.
Bagdad! All the world was sleeping,
Stars were softly creeping above,
That night in June
If I was dreaming then,
O, let me dream again.