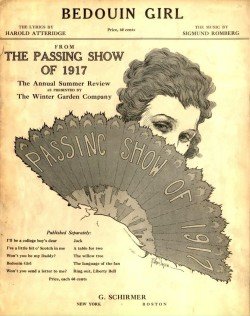 Lyrics
Out from the dry desert with his caravan
Into a slave market came an Arab man;
Worn and tired, to find amusement, that was his plan.
The dealer showed him the slave-girls
And then he turned to stare,
He saw a proud beauty dancing near him there;
So enraptured he cried,
You've captured my heart, dear!
CHORUS:
Bedouin girl, I want you,
Bedouin girl, you taunt me with your sun-kissed face;
Bedouin girl, I'm yearning,
This soul of mine is burning, Come to my embrace!
Off on my horse I'll take you,
You'll go by force, I'll make you,
Off thro' desert space we'll wildly race!
With fire raging,
You have a spirit so wild,
Dark eyes engaging,
This heart of mine they've beguiled,
Oh, I'll enslave you, crave you, win you, love you!
You're my Bedouin girl!