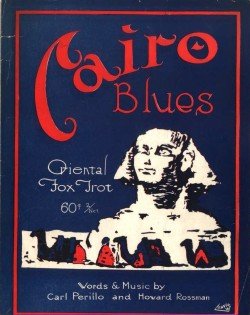 Lyrics
Last night I fell alseep
And in my slumbers deep
I dreamed of Cairo far away.
Where melodies so queer,
Keep ringing in my ear,
If you heard it, you would have to sway.
That melody was beautiful I vow,
I can hear those Cairo blues right now.
CHORUS:
Cairo blues,
They're calling to me,
They still pursue me,
Cairo blues,
They're so entrancing,
They set you dancing,
I can hear those temple bells a-ringing,
I can hear those temple swells a-singing, singing
Cairo blues,
They seem to taunt me,
They seem to haunt me,
That strange tune goes right into my brain,
I go insane,
I must wait till the shadows creep,
Then I can go to sleep
And hear those Cairo blues.
It seems I can't forget
That tune it haunts me yet,
It brings back Cairo far away,
That tune just seems so real,
And seems to make me feel,
And hear that Oriental music peal.
That melody so wonderful, divine,
And I seem to hear it all the time, that's true.