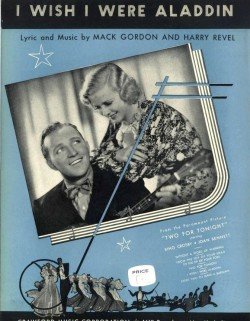 Lyrics
Mm, Mm,
My heart's unfurled about,
I've built my world about you.
Mm, Mm,
You're all I've ambition for,
Here's what I keep wishin' for all thru the day.
CHORUS:
I WISH I WERE ALADDIN,
How lucky I would be,
I'd rub my little lamp
And wish that you would fall in love with me
I wish that I were Winkle
Who slept for twenty years,
Imagine twenty years to dream of you,
would that be heavenly!
If I could cast a magic spell when I feel blue,
I'd wave my wand and call for wonderful you.
But if I were certain
We'd never part,
I wouldn't want to be Aladdin,
I wouldn't want to be Rip Van Winkle,
Just want to be the only one in your heart.