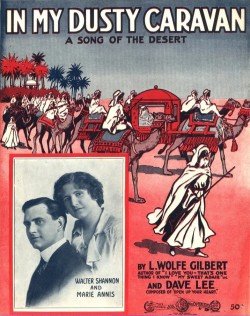 Lyrics
Neath the Pyramids at night
Shadows of a pale moon-light
A desert man with aching heart
He leaves his queen
'Tis hard to part.
Into the night goes the Caravan's light;
And soon he's out of sight.
CHORUS:
In a little Caravan
A little Arab man goes on his way
'Mid shadowland of the desert sand
She pictures his return some day.
Where the River Nile is flowing,
Trinkets he'll be showing
An Egyptian wedding tune,
A happy honeymoon
In a little dusty Caravan.
Oriental skies are blue
Sentimental eyes are too
The desert man he took his leave
And told his queen,
She must not grieve.
But now her eyes are wet with tears,
Her days they seem like years.