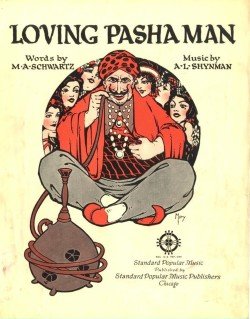 Lyrics
Where the harem is the custom
Where a man has wives galore
And he loves each wife,
More than all his life, Maybe more.
Where the ladies veil their faces,
So their eyes alone appear;
Wifies short or tall,
Pasha loves them all, For he's a dear.
CHORUS:
Oh my Pasha, Pasha man,
(Loving man, in his clan, he's a man)
Loves me like no other can,
(Oh he can, yes he can, always can,)
Oriental rugs and hugs, oh life's so gay,
In the harem where I always want to stay.
He's queer, But he's a dear,
never fear, when he's near, he's a dear.
While a dervish whirls and whirls,
(how he whirls, how he swirls, how he twirls,)
Pasha kisses all his girls,
(lovely girls, gives them pearls, precious pearls,)
While we dance all day,
In that Persian way,
For that loving Pasha Man.
Pasha calls the roll each morning
Wifies all must answer, "Here,"
"I love only you, Promise to be true to you, dear."
Ev'ry thing is bliss in Persia,
Land of love and harmony;
Pasha says, "My dear, Eighty-four come here,
A kiss for thee."