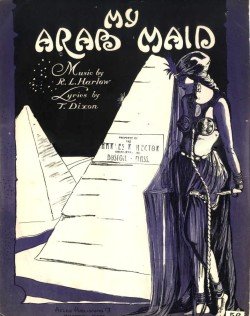 Lyrics
An Arab bold loved a lady fair, and the lady fair loved him.
He loved with a love so true and rare, as rare as her love for him.
When they camped within the Oasis shade in the burning sun of noon,
He would linger close to the charming maid and this sweet song he'd croon.
CHORUS:
At evening when my caravan is sleeping
And palm tree shadow the winding Nile,
While Arab sentries are their silent vigil keeping,
I dream of you dear, your tender smile,
So soft and gentle,
I can feel your soft caress dear
Then paradise means to be with you,
And as your lips to mine sweet maid you fondly press, my dear
You kiss me, I know all my dreams have come true.
He was the chief of his desert band and handsome brave was he.
More fair than all that desert land a wondrous beauty she.
In the silent watches of the night
In the evening cool and long,
Beneath the silver moon's soft light to her he'd sing this song.