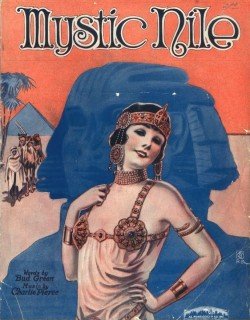 Lyrics
While strolling by the Nile, There I caught the smile
Of a Cairo maid.
In the moonlight, She did a dance for me,
'Neath an old palm tree, While the tom toms played.
But I had to say good-bye, Tho' our hearts will sigh and yearn,
I know I will soon return. Oh,
CHORUS:
Mystic Nile, I'm longing all the while,
To be near, and hear Her love song.
'Neath the palms, I'll hold her in my arms,
So sentimental, sweet Oriental,
Maid of the Mystic Nile.
There in the moonlight's glare, As she kneels in pray'r,
'Neath the stars above,
I can hear her sigh, to the Gods on high,
"Won't you please bring back Someone that I love?"
But She waits impatiently, And she's calling me to stay,
So I'm coming back some day. Oh,