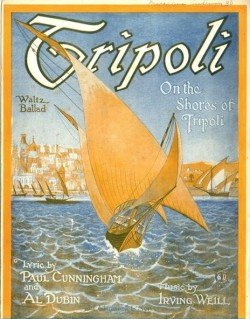 Lyrics
Open the portals of memory
Let the old honeymoon glow,
Take me again to old Tripoli,
Bring back the sweet long ago.
CHORUS:
Floating on the Bay at Tripoli,
Sweethearts you and I
Just a little paradise for two,
'Neath a starlit sky.
Vesper bells were a-ringing,
Choir voices singing;
While the moon above
just spoke of love,
On the shores of Tripoli,
Just like a beautiful melody
Haunting me all the day through,
So I am haunted by Tripoli,
When I am dreaming of you.