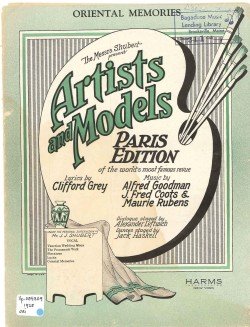 Lyrics
I've a feeling sentimental
Ever stealing through my brain,
There's a voice from far away
That whispers low by night and day.
By a temple oriental
Where the Eastern blossoms grow
Where the Minarets at dawning
Catch the glory of the morning
Someone waits who loved me so,
So long ago.
CHORUS:
Underneath the palm
You held me in your arms,
Beneath the oriental sky,
While the lotus ev'rywhere
Was scenting all the air
Of love the breezes seemed to sigh.
And now the temple bell
It's [sic] secret seems to tell
To me from o'er the great dividing seas,
Reminding me again
That love is all in vain,
Sweet Oriental Memories.