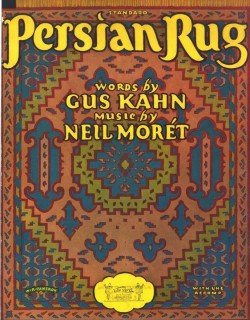 Lyrics
In the distant East, there is a legend old,
I am told
Of a Persian rug, worth all its weight in gold,
I am told.
Dreamers long ago they say,
Sat and wished their cares away,
As I sit and wish today on my rug.
CHORUS:
On my Persian Rug,
I can stray, far away,
Into the land of my dreams
On my Persian Rug,
wishes too, all come true,
And I'm Aladdin it seems,
Slave men bring to me gifts of wealth and splendour,
Slave girls sing to me love songs tender,
On my Persian Rug,
cares of day drift away,
Leaving the gold of my dreams.
Legends of the East, fill me with strange delight,
In the night
Legends of the East, make all my cares take flight,
In the night
On imagination's wings,
Far from weary worldly things,
Out there where the blue-bird sings I wander.