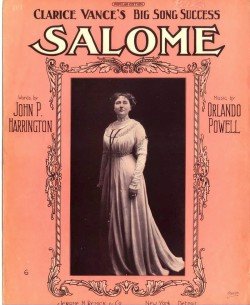 Lyrics
She's come to stay! Won't go away!
We've got Salome with us; She's made her home with us!
She may have been a waitress, She may have been a ____,
She may have been a Gibson girlie dear;
But, anyhow she shows She's got no use for clothes!
In fact we shudder at the bare idea!
On ev'ry bill we see: "S - A - L - O - M - E!"
CHORUS:
Why do you do this and that, and these, Salome?
Why do you go so, upon the toe, and call it dancing?
Why don't you wear something round your knees, Salome?
All the fellows, it is true, have seen quite enough of you!
So, where-ever you come from--"Go Home!"
Girls thin and fat, Round chests and flat!
Pose as Salome, you see; Show their ability!
But oh, Salome, be careful of catching cold, or
You'll have to wear a plaster on your chest!
Then soon, you'll sigh, it's true! "I've got no work to do!"
You'll get the sack for being over-dressed!
I'd make a fine Salome! You ask the folks at home!