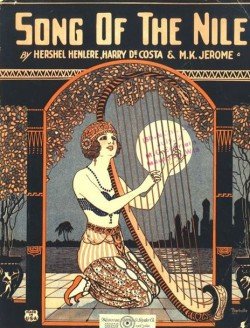 Lyrics
From Cairo one day He sailed away
and left his sweetheart sad and lonely.
Now his letters say, "I'll never stay,
for I've learned that I love you only."
CHORUS:
I hear the song of the Nile,
In my dreams all the while,
And it seems I'm again with you, dear,
That melody beckons me
Back to you o'er the sea,
It's awakened a love ever true, dear,
Tears have been shed, But soon instead;
Sorrow will fade and we'll smile,
Altho' we're both far apart, dearest,
You've reached my heart,
with that wonderful song of the Nile.
Far over the sea So patiently,
she's waiting with a love that's burning.
All sorrow is past, For now at last,
this message tells of his returning.